Boy, was 2018 a real doozy or what?
And depending on the perspective you choose to adopt…
I think 2019 will either be thrilling or terrifying.
Because now that the bull market is finally winding down and putting buy-and-holders on notice… it's officially a trader's market.
Personally, I'm 100% stoked about the wealth of opportunities we'll see from here on out. And I know what it takes to take advantage of them…
An open mind…
A willingness to be flexible and adapt…
A keen focus on risk control…
Essentially, a trader's mindset.
And, of course, a small handful of proven investment systems – like the ones I teach in my Secrets of a Seven-Figure Trader program.
Look, I've been saying that buy-and-hold is dead for years now.
But after a year like 2018, it will finally be impossible for the masses to deny it any longer.
Let me show you what I mean…
Stocks in the RED
It's been a full decade since stocks closed a calendar year in the red.
Perhaps the length of this streak alone has been enough to lull buy-and-holders into complacency.
Sure, 2015 was basically a flat year for stocks. And bullish investors have suffered through a fair share of pullbacks and plunges – like in the summer of 2011, October of 2014, and January of 2016.
But all the dips had been getting bought, making them short-lived and easy to recover from.
This year was different…
January began with irrational euphoria and an exponential stock rally.
Then February's "volatility event" hit, stirring panic and knocking the bull market back a few rungs.
It took the next eight months of so for U.S. markets to barely recover to their January highs.
But the bulls couldn't muster much more at that point, leaving U.S. stocks tapped and topped out by early October.
Now, almost everything is in a bear market!
It's hard to believe it. Especially since the deterioration happened so quickly.
All four major U.S. stocks indexes had nicely positive year-to-date returns through the end of September.
Now… they're between 13% and 24% off their highs.
U.S. small-cap stocks (IWM) are officially in a bear market now.
Foreign developed (EFA) stocks are in a bear market…
European (VGK) stocks are in a bear market…
Chinese (FXI) and emerging-market (EEM) stocks, too… in a bear market.
To me, it's undeniable that the market has changed.
But that's not a bad thing, per se, as long as you keep an open mind and resolve to adapt to the changing market, rather than trying to fight it.
My time-tested trading strategies are rather short-term in nature, with typical holding periods of a few weeks to a few months… not years.
Plus, they're designed to play both sides of the market – to capture both booms and busts.
And I think these strategies will really shine now that the bull market in buy-and-hold is coming to an end.
Particularly since it's not just stocks that are in trouble…
Bonds in the RED
We all know that stocks are volatile and can be expected to have a down year every so often.
But bonds… bonds are supposed to be the Steady-Eddie stabilizers of well-balanced portfolios.
Well, not this year…
All flavors of the bond market are closing in the red for 2018.
The 10-year Treasurys (IEF) are down around 1.5%…
Vanguard's Total Bond Fund (BND) is off 3%…
Long-dated U.S. Treasurys (TLT) are down 3.8%…
Junk (JNK) and emerging-market (EMB) bonds are off around 10%!
Clearly, bond markets provided little help alongside deteriorating stock prices this year.
And that's a fairly odd occurrence…
In fact, we have to look all the way back to 1994 to find a calendar year in which both stocks and bonds closed in the red together.
A quick calculation shows the beloved 60/40 portfolio (i.e. 60% in a stock fund, like SPY, and 40% in a bond fund, like IEF)…
It lost around 6.4% this year… for its worst performance since 2008!
And even then, in 2008, bond prices did exactly what they're supposed to do… they acted as the portfolio's counterbalance and cushioned the hefty losses stocks were suffering.
I've written before about how rising interest rates don't typically kill a bull market in stocks until they reach the 5% threshold.
The 10-year Treasury rate just poked its head above 3% this year, but already the rising-rates story seems to be causing palpable fear in the stock market. That's concerning!
We'll see how this shakes out in 2019. But either way, it's now clear that bonds aren't a guaranteed diversifier. And after its worst year in a decade, the passive 60/40 (aka buy-and-hold) is leaving much to be desired.
I'm all for finding a good balance between risk-on and risk-off markets – as the 60/40 intends to do – but I continue to believe that a tactical, systematic approach to trading both sides of the market will prevail over passive portfolios.
Particularly now that volatility is on the rise…
Volatility in the GREEN
You know it's been a bad year for risk assets when you can (loosely) say the only thing "up" was volatility.
The CBOE Volatility Index (aka "The VIX"), get this… tripled in 2018!
That's right, it opened the year around 11. And then by Christmas Eve, it was shooting north of 33!
Up more than 200% in a year – that's incredible!
In fact, it's record-breaking.
Here's a chart showing the calendar-year returns of the VIX since its 1990 inception…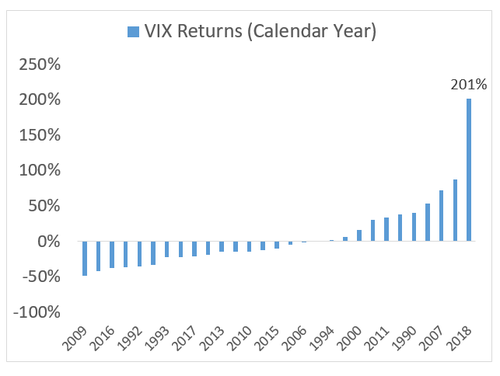 Clearly, 2018 was a stand-out year for volatility.
But really… we were due for it.
The VIX has been closing lower almost every year since the bull market began in 2009.
Last year it was down 21%. And that was after falling 10% in 2015 and 37% in 2016.
Volatility – perhaps more than any other financial market or gauge – is cyclical in nature.
Periods of rising volatility follow periods of falling volatility, and vice versa.
This is neither good nor bad – it's just an objective fact you must acknowledge if you're committed to adapting to the "new normal" ahead.
And 2019 may not register the same 200% increase we witnessed this year.
But mark my words… 2019 will be a wild ride!
I fully expect heightened levels of volatility to persist.
That will make for a challenging environment for buy-and-holders. But it will create an environment chock full of opportunities for flexible investors who are willing to keep an open mind and play both sides of the market.
Again, a trader's mindset is a must now that buy-and-hold is on the ropes.
And since I specialize in adaptive, short-term, "both-sides" strategies… I'm particularly excited for what 2019 has in store for us!
If you're interested in learning more about this trader's mindset I'm talking about, my Secrets of a Seven-Figure Trader program is a great place to start
In his brand new book, Adam O'Dell shares the simple investing secrets he used to get him out of his 80-hour a week job and into a life of financial freedom. Learn…
Read More>>