Let's discuss a hypothetical trade involving Amazon (Nasdaq: AMZN).
Say Amazon was trading at $1,590 per share. There's a way in which you could get market speculators to actually pay you cash in exchange for your promise to buy the stock at $370 per share within the next eight months.
Here's a chart again for reference: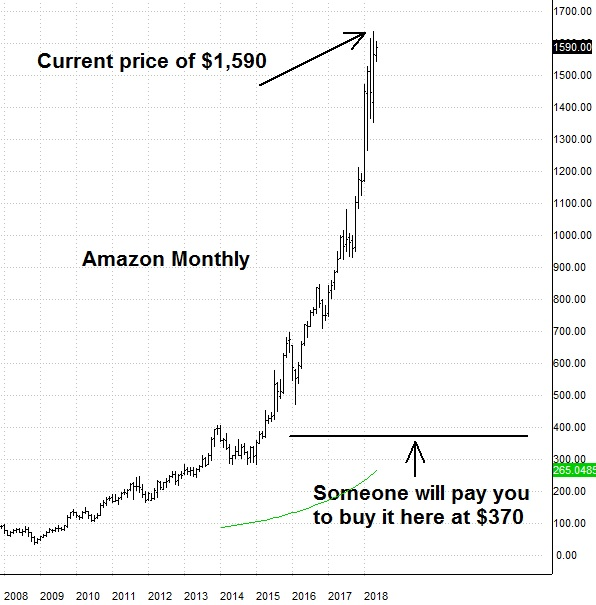 As you can see, it seems ludicrous that someone would offer to pay you a "fee" in exchange to buy the world's hottest stock at a 76% discount.
Why would someone do that?
That shouldn't matter, right? You should just be glad these easy payments are there for the taking.
I go more in depth about this strategy in past articles. And I explained before why speculators make these payments – and why you should absolutely consider taking them.
But, for now, I want to show you a handy tool that can help you gauge a stock's probability of reaching a certain level, and how you can use it to your advantage.
Look Ahead to Future Stock Prices
Within the segment of the market I like to trade in, success is usually achieved by understanding a stock's probability of reaching a certain level by a certain date.
If you know this ahead of time, you can greatly increase your odds of having a winning trade.
Well, in this hypothetical trade, the chance of Amazon reaching $370 per share within the next eight months is practically nil.
How would I know that?
Well, here's a little tool I use: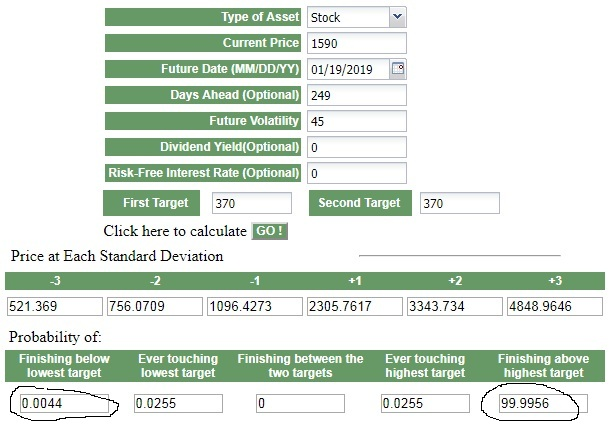 It's a typical probability calculator, and it's one of the greatest weapons at our disposal.
For the trades I construct, I absolutely need to know probabilities.
The probability calculator can give insight into a stock's chance of reaching (or not reaching) a desired price within a certain timeframe.
At the top of the calculator are the inputs, which consist of the stock's current price, the date in the future you're considering, the stock's volatility, and your target areas.
Since I want to know the chances of Amazon hitting (or not hitting) $370 per share in the next eight months, I place those parameters in the "Input" section.
The bottom of the calculator gives us the results, with the two circles yielding some very interesting information.
We see that Amazon has an almost 0% chance of finishing below $370 eight months from now.
Conversely, it has about a 100% chance of finishing above $370.
Do you think the players paying out the fees know this?
Once again, doesn't really matter. You should just be happy it's happening in the first place.
So, although the chance of buying Amazon for $370 in the next eight months seems out of the question, there's still a 100% chance you'll collect the fees that other speculators are so willing to pay.
Why? Because they're required to.
And, if Amazon does happen to fall to $370, well, then I'm sure you'd be happy to buy it and watch it go back up again.
If you can key in on those stocks that have extremely low probabilities of hitting certain levels, the fees can be there for the taking, simple as that!
And, outside of using the probability calculator for the types of trades I recommend, if you know the odds ahead of time, you can steer clear of questionable trades you might consider taking due to a tip from a friend or a segment you saw on CNBC.
Even though this is hypothetical trade, it's similar to trades that I would walk you through in Instant Income Alert. It's a nice insider look behind the scene at a proven and successful system that has the potential to land some nice profits.
If you're currently relying on bonds, savings, or just plain stocks for income, you need to check out Charles Sizemore's favorite money-making method which could potentially DOUBLE, even TRIPLE your monthly payout!
Read More>>