The goal of every investor is simple:
Be invested in risk assets ahead of strong returns and low volatility; and
Avoid risk assets ahead of weak (or negative) returns and high volatility.
Few investors see the puzzle as simply as that.
But, truly, that's all you need to do to be extraordinarily successful at investing.
Be "in" during most of the good times and be "out" during most of the bad times.
That's exactly what I designed my 10X Profits market-timing model to do.
And today at 1 PM ET, I'll be hosting a presentation on the 10X Profits. To reserve your spot for this event, all you have to do is click here, then follow the instructions.
If you can't make it to the 1 PM showtime, I'll be offering a replay of my presentation at 7 PM ET. You can find the replay here.
The foundation of this strategy is the following table, which tells me – based on the movements of U.S. sectors and global stock markets – whether it's a good or bad time to be invested in risk assets.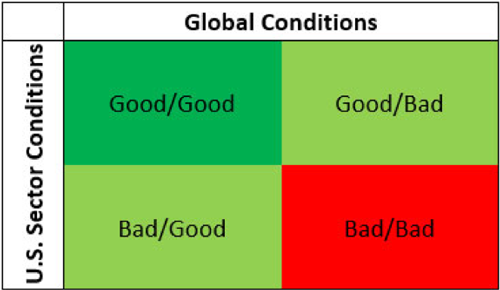 Now, at this point I should share with you one key aspect of my model…
It's designed to have a bullish bias.
Why?
Well, quite simply, the stock market has a bullish bias!
And when my market-timing model indicates it's "All Clear" in the markets – there's no reason not to be invested in the world's greatest wealth creator!
Look, it's rarely the bull markets that gives investors trouble.
It's the corrections… the bear markets… and the panic-driven crashes. Right?!
And that's what my market-timing strategy seeks to avoid, with the help of my simple four-state model.
The fact is, my research shows it's only the "Bad/Bad" state that investors should worry about.
That's when stock markets tend to stumble, even tumble – and with heightened volatility, to boot!
I can prove it to you.
Let's take a look at some common stock market indices and see how they've performed historically during each of my model's four states.
First, here's a chart of the S&P 500…
The S&P 500 has lost investors' money at an annualized pace of 24% per year after my model has identified a Bad/Bad environment ahead.
All other times, the S&P 500 has generated double-digit annualized gains.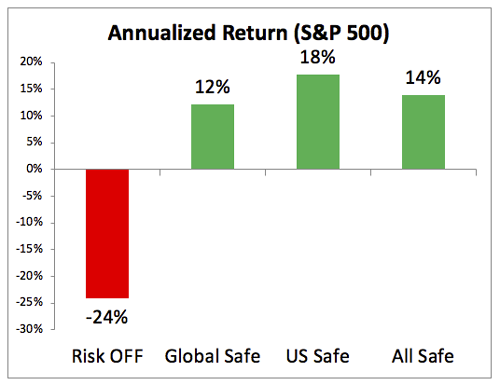 As you can see, following this model has proven effective in getting most of the good… and avoiding most of the bad.
U.S. small-cap stocks, as measured by the Russell 2000 index, follow a similar pattern as the large-cap S&P 500. And that's exactly what I'd expect to see, proving my model is widely applicable and robust.
Specifically, the Russell 2000 has lost 35% annualized during my model's Bad/Bad environment. All other times, the index has generated double-digit annualized gains.
Note: You'll see that small-caps lose more and gain more than large-caps, which is in line with the fact that small-caps are generally more volatile than large-caps.
Again, even with volatile small-cap stocks, following this model has proven effective in getting most of the good… and avoiding most of the bad.
Now, let's take a look at volatility.
Volatility tends to move in the opposite direction as stocks. Meaning, when stocks are down, volatility tends to rise.
Have a look at a popular volatility fund, ticker symbol VXX…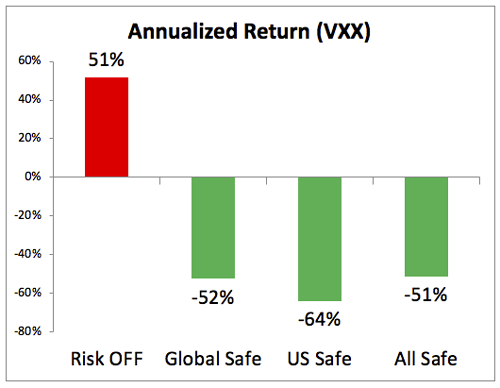 This chart is naturally the inverse of the stock market charts we looked at first.
Realize, VXX is a defensive asset, while stock market ETFs are offensive assets.
As you can see, it has historically paid off to be long VXX when my model forecasts a Bad/Bad environment. It's paid off pretty nicely, in fact, with an annualized return of 51%.
But the rest of the time, as you may know, VXX tends to go down… down… down! Buy-and-hold investors have gotten creamed for holding VXX indefinitely.
That's why at 10X Profits, we only ever tactically invested in VXX – only when our model is in Bad/Bad mode (which is less than 20% of the time)… and only for a very short period of time (on average, less than two weeks).
All other times, we'll be in offense mode.
All told, this is how my 10X Profits service works to get most of the good while also avoiding most of the bad.
It doesn't work perfectly all the time. No strategy does.
But over the course of a full market cycle, it's proven its ability to latch on to wildly lucrative bull runs… and to avoid (and even profit from) major market meltdowns, including the 2008 crash!
And with markets now at a significant make-it-or-break-it point, there's no better time to have a market-timing model in your arsenal.
Options 101
In the spirit of the holiday weekend, I wanted to do something for you.
Below is a video I recorded for my Cycle 9 Alert subscribers to introduce newcomers to the idea of trading options.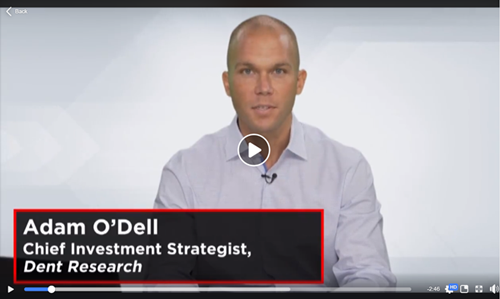 In Cycle 9 Alert, as well as Secrets of a Seven-Figure Trader and 10X Profits, I aim to not only help you make money, but to teach you how to become a successful investor.
And starting Black Friday, I'll be offering a deal unlike any you may have seen before involving all three of my services.
With access to Cycle 9 Alert, 10X Profits, and Seven-Figure Trader, you'll have the potential to land huge gains in any type of market environment, and for five years!
You won't want to miss out on this – perhaps a once in a lifetime – opportunity.
In his brand new book, Adam O'Dell shares the simple investing secrets he used to get him out of his 80-hour a week job and into a life of financial freedom. Learn…
Read More>>