Let's skip the small talk today.
I'm really curious to know if you still own any of the FAANGs?
I'm talking about Facebook (FB), Apple (AAPL), Amazon (AMZN), Netflix (NFLX),and Google (GOOG)…
Are you still holding strong (or even buying the dip)?
Did you make a timely exit near the top?
Or maybe you never got into these highly hyped plays in the first place?
I'm curious to know. So please, drop me a note at sevenfiguretrader@dentresearch.com. I know this is The Rich Investor, but I'm more easily reached at this address. I've been hard at work on some new content for Secrets of a Seven-Figure Trader.
It's an open-ended invite… let me know your opinions and positions on the infamous FAANGs.
And please, let's be frank… how have your opinions and positions changed since watching these stocks drop 40% (FB)… 39% (AAPL)… 34% (AMZN)… 44% (NFLX)… and 23% (GOOG) from their recent highs?
I'm sure you must feel differently about these stocks now.
And that's perfectly natural.
The market is practically designed to make an emotional rollercoaster out of your feelings about stocks.
Something roughly like this…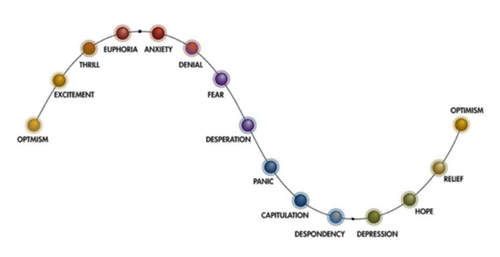 Again, there's nothing unnatural about your ever-changing feelings about the market, and beloved stocks, such as the FAANGs.
But as is the case with many things in life, caving to your emotions won't get you to your goal… and is more likely to land you in hot water instead.
This is why I'm a systematic trader.
Systematic investing is the only solution I've found to the – let's call it – "my-emotions-always-****-me-up" aspect to this endeavor.
And the systematic solution is a powerful one for two keys reasons, as I recently explained with a PowerPoint slide titled Why Systems Work…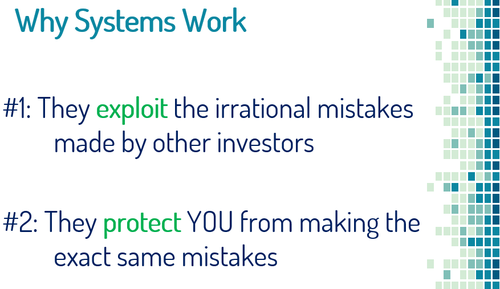 Source: Adam's Irrational Economic Summit presentation (October 2018)
What exactly does this mean?
Well, the first point acknowledges the fact that all investors routinelymake investment decisions that are not perfectly rational. (Yes, evenme… and you!)
Note: If you disagree with any part of that statement, I'd love to hear from you – write to me at sevenfiguretrader@dentresearch.com.
And the second point is where the solution comes in…
Taking a systematic approach to investing requires you to make buy and sell decisions based on "rules" – thus completely eliminating the emotions factor from your investment process.
So, taken together – and assuming you share my belief that your emotions will more often hurt you than help you – a systematic approach allows you to capitalize on the mistakes of other investors, while greatly minimizing the mistakes YOU make.
Let's think of a simple example…
One of the most common mistakes investors make is falling in love with a stock – or a particular group of stocks (cough, like the FAANGs).
Once you fall in love with a stock, there's almost nothing that can make you sell it.
And that's where the trouble begins!
I talked about this in April of last year, in a piece titled My (Technical) Take on Facebook.
I showed how shares of Amazon (AMZN) fell a whopping 95% during the 2000-2002 dot.com bust – which was the company's first experience with a major market crisis.
And I explained how shares of Facebook (FB) are just as likely to"plunge…20%…30%… 40%… or more" in the next bear market – which will be the social network's first experience with a down market.
Now, I realize that's neither a precise nor bold prediction, by any means.
But in a day when everyone and their brother is madly in love, lust, and infatuation with Facebook, I felt it was worth stating: Facebook is NOT immune to a massive sell-off!
And that's why falling in love with Facebook – of any stock for that matter – can be so damaging to your success.
Because the only way to prevent losing 95% on a stock is – logically – selling it when it's down a lesser amount!
And that's something you won't be able to do if you're in love with it!
A Trader's Market
In my 2018: A Year in Review, I said 2019 will be a "trader's market."
That most certainly doesn't mean you'll have to be a day trader or high-frequency trader to make bank this year.
It does mean that opportunities will abound…
On both sides of the market (i.e. on rising and falling prices).
Over relatively shorter time periods.
And in outside-the-stock-market assets, like bonds, currencies and commodities.
Even if you consider yourself a conservative, long-only investor (meaning you don't want to short anything)… I still think you'll want to learn a bit about the "trader's mindset" as we head into another volatile year.
That involves remaining flexible and adapting to the market.
And it means being willing to sell a stock position – even if you sort of love it – when bullish trends turn bearish.
We talk a lot about the trader's mindset in my Secrets of a Seven-Figure Trader program.
I definitely recommend having a look at the material I've put together for that.
And then later this week, we'll round out this discussion with a look at what my systems are saying about Facebook and the other FAANGs.
Was my system's April sell-signal on Facebook a good one? I'll show you next time…
In his brand new book, Adam O'Dell shares the simple investing secrets he used to get him out of his 80-hour a week job and into a life of financial freedom. Learn…
Read More>>