As I see it, there are three main flaws with Wall Street's buy-and-hold mantra:
It's enticingly believable,
It's highly dependent on luck (but no one will tell you that), and
99% of investors can't follow it (and I have the data to prove that).
These three flaws I've identified in the buy-and-hold mantra take centerstage in my eBook, 27 Stock Secrets of Rich Investors.
Understanding the flaws that make buy-and-hold more dangerous than you think is the first step toward embracing the approach of an active trader.
So today, I want to dive into…
The First Flaw
The pitch for buy-and-hold is enticingly simple and believable: In the short run, stock moves are difficult to predict; over the long run, stocks go up.
To be fair to the establishment's buy-stocks-and-just-hold-them-forever mantra, stocks have indeed been a powerful wealth builder for more than a century.
The U.S. equity market exhibits a bullish bias over the long run – namely because of earnings, inflation and (in more recent years) the simple fact that Baby Boomers have used it like a retirement piggy bank.
Stocks have earned average annual returns roughly in the range of 6% to 10% over many decades and market cycles. And that's why proponents of buy-and-hold have a leg to stand on. It's hard to argue with the stock market's long-term track record.
So, Wall Street tells you…
As long as you have enough time between today and retirement, you should just buy and hold!

You should ignore the short-term gyrations of the market… and simply have faith that, in the end, your buying and holding will ensure you participate in the modern world's most powerful wealth creator: the stock market, which, as we all know, has always gone up in the long run.
Frankly, this storyline makes an enticing argument for buy-and-hold.
It's difficult to trash an idea that seems so logical and realistic. And that's why troves of investors for decades have bought what Wall Street's been selling.
Unfortunately, though, there's a sneaky little lie tucked into the sales pitch for buy-and-hold… It requires a commitment that most investors I've met simply are not able to make. A commitment to be in stocks for the long haul.
It's generally true that it's very unlikely you'll lose a lot of money if you hold stocks long enough – and here, "long enough" is 20 to 30 years, which is a really long time.
Look at this chart…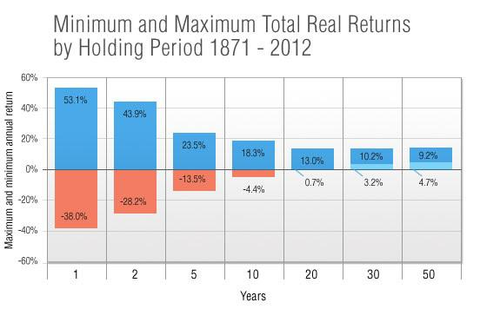 It shows the range of annualized returns you might expect to earn if you hold stocks for 20 years… or for 30 years.
No Negative Numbers…
While it's common to lose 5% or 10% in a given year, it's rather unlikely you'll lose that much each year if you hold for 20 or 30 years.
But take a closer look at the lower range of this chart… the 0.7% annualized return when holding for 20 years… True, that's not a negative number… it is downright measly though!
Buying $10,000 of stock and earning 0.7% annualized for 20 years… that gets you to $11,497 in two decades!
So you could start investing when you're 40… and still be darn poor when you're 60… all the while hoping to spend your "golden years" relaxing on a beach, or playing shuffleboard.
You see, Wall Street tells you that stocks go up in the long run… so buy-and-hold. But they fail to mention that, sometimes, they go up very little!
And that's first flaw with the buy-and-hold mantra. It's enticingly believable that "stocks always go up in the long run." (They have.)
But if you're hanging your hat on 0.7% annual returns, I'm pretty sure you'll be disappointed with Wall Street's go-to advice.
And if you do find yourself disappointed with that advice, then do yourself a favor and take control of your investing. Learn what it takes to become a consistently profitable investor.
In my book, 27 Stock Secrets of a Rich Investors, I show you exactly how to become a successful active investor. I promise you…the potential to earn handsome returns is far greater than what Wall Street offers you.
Get an inside look at Adam's favorite, market-beating strategies. The same ones he personally used to retire in his early 30s AND the same strategies that have helped him outperform George Soros,…
Find Out More>>