I like saving money. A lot.
In fact, I'm a cheapskate and actually take pride in my stinginess.
But you won't see me fighting the crowds on Black Friday. Not going to happen.
Life is far too short to explore the depths of human misery that I see on display the Friday after Thanksgiving every year. Lines forming the night before… elbows flying… fighting over boxes with fellow shoppers… the vulgarity of it all.
No, whatever money I would save isn't worth the lifetime of bad karma I'd provoke fighting for a space in the mall parking lot.
Still, if you're in the retail business, Black Friday matters because it gives you an indication of what to expect for the remainder of the holiday shopping season.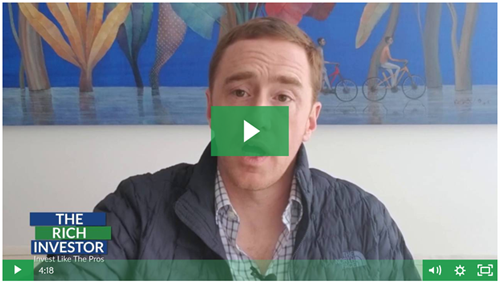 Nearly a third of all retail sales happen in the month between Thanksgiving and Christmas. So, if sales bomb on Black Friday, it can be a bad sign of things to come.
Interestingly, Black "Friday" is something of a changing concept these days. Stores desperate for a finite number of customer dollars have been opening earlier and earlier, and now Thanksgiving Thursday itself is a major shopping day. (You should be blindfolded and summarily shot by firing squad without even the courtesy of a last cigarette if you leave your family to go shopping on Thanksgiving Day. That should be unacceptable.)
And of course, internet shopping has also taken some of the sense of urgency out of the whole endeavor. I haven't gone Christmas shopping in an actual brick-and-mortar store in years.
Nevertheless, you're going to be blasted with Black Friday news stories over the next several days, as analysts try to glean whatever information they can about the health of the consumer.
But we don't have to wait for Black Friday.
Last week, Walmart (NYSE: WMT) – the world's biggest retailer – announced its third quarter earnings results, and results were good. In fact, they were so good that it made analysts uncomfortable. Walmart topped analyst estimates for earnings and raised its guidance for the rest of the year. Same store sales were up 3.4%, and the average shopper's bill was 2.2% higher.
All of that is fantastic. And yet Walmart's shares actually fell on the announcement. It seems that Wall Street draws a different conclusion when looking at Walmart's results: These are the sort of numbers you expect to see near the end of the cycle, as growth is peaking and recession looms.
It's probably a mistake to look too deeply at a single quarter's results from a single company (even if that single company happens to be the world's biggest retailer). But there is plenty of other evidence out there that suggests the expansion is nearing the end of the line.
The price of crude oil dropped by more than a fifth last month. Yes, high prices earlier this year encouraged new production. But a drop that severe and that sudden also suggests falling demand.
And it's not just crude oil. Copper prices are down by a comparable amount from their summer highs, and "Dr. Copper" is widely seen as a gauge of economic health. Copper demand is tied directly to construction, particularly in China.
After years of steady growth, housing starts have also trended lower this year, as have new home permits. And adding insult to injury, the Fed continues to raise rates.
None of this means the world is ending or that we're due for a major recession. But it does suggest that a mild recession or at least several quarters of slower growth is likely.
That wouldn't necessarily be a big deal were it not for the fact that the U.S. stock market is priced for absolute perfection. With the S&P 500 still priced at around two times annual sales, investors are implicitly betting that 4% economic growth is the new normal.
Well… it isn't. And as this becomes more and more apparent, we're going to see the stock market adjust for slower growth ahead.
This doesn't mean you necessarily have to dump everything and run for the hills. But it does mean that you should be a little more careful than usual.
Focus more on short-term trading like we do in Peak Profits rather than on making major new long-term investments, and keep any stop-losses a little tighter than usual, like I have in Peak Income.
And naturally, keep a little dry powder on hand. One of the reasons Warren Buffett has been so successful over the years is that he always has a good chunk of cash ready to deploy on a major selloff. When 2008 wrecked the banking system, it was Buffett that General Electric and Goldman Sachs ran to for emergency funding.
Why?
Because he had the money. So, take a page out of Buffett's book and have a little cash on hand in the event that we get a really nice buying opportunity.
And as for Black Friday… don't debase yourself by fighting with the unwashed masses for that last bargain-basement blender on the shelf. That's no way to live your life. Stay at home, eat some pumpkin pie and spend some time with your kids. Or at least relax and watch some football.
If you're currently relying on bonds, savings, or just plain stocks for income, you need to check out Charles Sizemore's favorite money-making method which could potentially DOUBLE, even TRIPLE your monthly payout!
Read More>>