Silver, as an investment, gets no respect.
It has always played second fiddle to gold, even though it has many more personal and commercial uses.
Besides beautiful silverware and jewelry, silver is used in coins, cars, electronics, CDs, DVDs, phones, batteries, solar panels and other industrial materials.
Gold, on the other hand, is mostly known for jewelry and coins.
Not to harp on the yellow metal, but I've never been a gold bug. I just don't see where it gets its value.
Sure, it's been around for 5,000 years and has stood the test of time as a form of currency, store of value, and wealth. But honestly, you really can't do much with it.
I see silver as being much more "usable," but it's never been a long-term money-maker. It's gone down in price as much as it's gone up.
In last week's The Rich Investor, I discussed how we achieved a profitable gold trade by using two different bullish option-trading strategies.
Sure, I like gold if it can offer me a way to make money.
And the charts alerted me to a golden opportunity back in September 2018.
Is there a similar scenario setting up in silver now?
Let's Go to the Charts!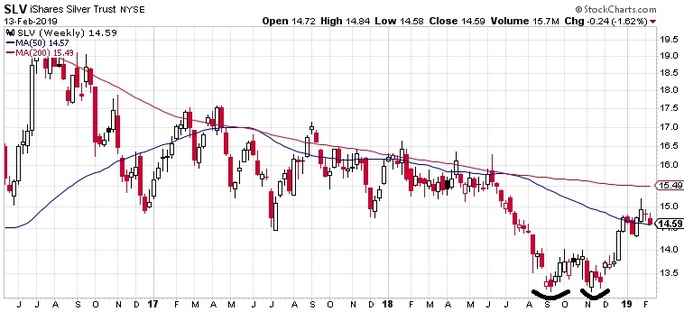 What you see above is a weekly chart of the iShares Silver Trust ETF (NYSE: SLV) going back to mid-2016 (as of February 12).
SLV tracks the price of silver futures, just as GLD tracks the price of gold futures.
What you'll notice in the chart is the most beautiful double-bottom pattern formation that occurred in September and November of 2018, as marked by the two small curved lines.
This is one of the most bullish signals you can get, and right on cue, the price of SLV rallied.
It's recently come upon some resistance right at its 50-day moving average mark (near $14.60) where it looks as though it's gathering strength to make the next move higher to the 200-day moving average mark of $15.50 per share. If it convincingly blows through that level, it's off to the races, where the next stop could be $17.50.
What's the Best Way to Play It?
You knew my answer would be by using options contracts, right? Of course!
As a straight-up stock buyer, you could purchase 100 shares of SLV for $14.60, which would require a cash outlay of $1,460.
In the investment world, that's not a terribly huge cash cost.
But if we used my favorite option-buying strategy of deep-in-the-money (DITM) call options, let's see what kind of deal we could get.
Scanning the multitude of available options contracts, a September 2019 $12 SLV call option will cost roughly $290, a cash outlay 80% less than buying the SLV shares outright.
Once again, the key to picking the specific DITM call option is to make sure it has as close to a 90% Delta, which gives the option almost point-for-point movement with the stock. The $12 SLV call option has a Delta just a smidge below 90%.
Delta, as it's used in option pricing, measures the relationship between the change in an option's price relative to the change in the stock's price. Choosing an option with at least a 90% Delta is an assurance that the option price will move at least 90% in lock-step with the stock.
If SLV were to move up to the $17.50 level by September expiration, the stock purchase would yield a $290 gain with an ROI of roughly 20%.
But the ROI of the call option would yield roughly 53%, more than two and a half times as much as the stock purchase.
Plus, the call option would see a dollar gain of $260 (almost as much as the stock) all while saving $1,170 compared to the SLV share purchase.
The second way of playing a bullish hunch on SLV is by using my favorite option-selling strategy: selling put options.
I've written at length about the amazing benefits of the strategy in these pages, and it's the core system of my Instant Income Alert service.
If you feel silver might endure a slight pull-back before moving higher again, you can "name your price" at a lower level that fits your risk profile.
For instance, a December 2019 $13 SLV put option is currently paying out $30 per each contract sold.
This will yield an immediate $30 into your pocket in exchange for buying 100 shares of SLV at $13 per share. You would only need to follow through with the agreement if SLV trades below $13 by December 2019. If not, another put option can be sold at that time to repeat the process.
At SLV's current price of $14.60 per share, the put option gives the investor a $1.60 per share of downside cushion, which equates to roughly 11% below SLV's current value.
If SLV falls below $13 by expiration, you would follow through on the agreement and purchase the shares. You would then have an unlimited upside gain potential to as high as SLV can go.
That's all there is to it!
Two great ways to stake a bullish claim in silver if you're so inclined. Just note, these are not actual trade recommendations that we will be following.
To you future options trading successes.