That's the question I always get when I talk about my favorite subject.
Don't know what that subject is?
Of course you do!
It's options trading, and you know this because you're a regular reader of The Rich Investor (thank you!).
Today I want to answer that question I posed above…
Apple (Nasdaq: AAPL) for $50?
Question: Would you buy Apple (Nasdaq: AAPL) for $50 if you had the chance?
With it currently trading at $170.89 per share, I'm sure you'd say yes.
But the more important question is: who would sell it to you at $50?
What you see above is a sampling of Apple put-option contracts that expire on January 17, 2020 – roughly 13 months from now. I've circled the current bid and ask prices for the Apple $50 strike put options.
The strike price represents the level in which you would potentially trade Apple shares with the other person.
And what else?
It also tells you that someone is willing to pay approximately $0.13 per contract (splitting the bid/ask) for that put option.
Since each option contract is worth 100 shares of stock, you'd get an immediate infusion of $13 ($0.13 x 100) into your account from the put option buyer as soon as you make the sale.
If you sold five contracts, you'd get $65. For 10 contracts, you'd get $130 (and so on).
But why is this important?
Because anyone buying those $50 put options is predicting that Apple will fall to $50 per share by January 17, 2020.
And when someone wants to speculate on a stock moving lower, they can buy put-option contracts. To do that, they pay the entrance fee (the premium) to the put-option seller – you!
You Mean Someone Actually Buys Those Things?
This is when I typically get that question.
Exactly! Who in their right mind thinks Apple is going to fall to $50 in the next 13 months?
My reply is: Does it matter?
Whoever they are, they're willing to pay you $13 for every 100 shares of Apple you commit to buy at $50 per.
If you sold 10 contracts, you're committed to buy 1,000 shares.
The contract is in effect until January 17, 2020.
Now, obviously you can't buy Apple today at $50 because it's still trading at $170.89 per share.
So, for you to buy the shares at $50, Apple would actually have to fall to that level in the next 13 months.
If it doesn't, you just walk away with your $13.
If it does, then you follow through and buy your 100 shares and pay the $5,000 cost. The money would be deducted from your brokerage account just like any other typical stock purchase would.
But seriously, why would someone buy that put option?
Speculators & Hedgers
Two reasons why:
1. Someone is outright speculating, and quite honestly, thinks Apple will really fall that far in the next 13 months.
This is my favorite kind of player. Not because I want to emulate them, but because they're the easiest ones to make money from, and they've helped line my pockets for years. I'll show you why below.
2. Someone is hedging a prior purchase of Apple shares they made and wants to set a floor price for their stop-loss point. In this case, they're looking to sell their shares at $50 if it drops that far.
Who knows, maybe they were lucky enough to buy Apple for $10 per share back in 2006, and now they want to protect those gains.
The Odds Are In Our Favor
Here's the reason why I love the speculators, and why I've made tons of money from them.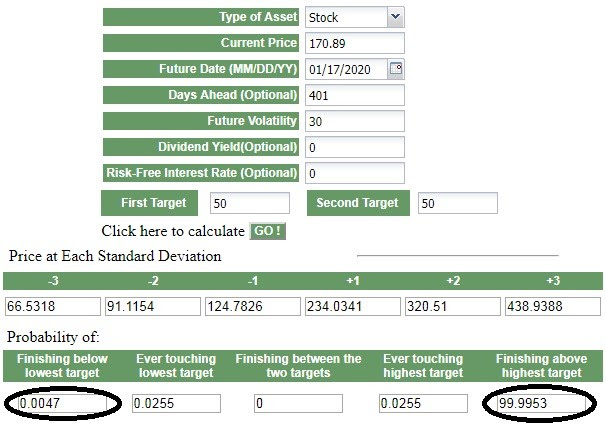 According to my favorite "secret weapon" above, the chances of Apple falling to $50 in the next 13 months is basically zero.
Said another way, the chances of Apple staying anywhere above $50 in that time frame is over a 99.99% probability.
As long as Apple stays above $50 per share, the put-option buyer will lose their bet of $13.
Who wins?
The put-option seller. They're the ones who collect on these bets that typically have over a 90% chance of winning.
For years and years, I've been selling put-option trades like these and putting high odds of success in my favor.
And the thing that excites me most is that anyone can do it.
But there's something more subtle underlying this type of trade.
You can actually use it to attempt to purchase a stock of your choosing at a price of your choosing – very much like placing a "limit-buy" order.
Now, we all know the chances of Apple falling to $50 is practically nil.
But what if you had interest in buying Apple at, say, $125 per share, or even $150 per share?
Those levels might be more attainable, especially if we have the bear market rout that some are calling for.
Could be great levels to get your hands on some shares.
And just for information sake (not shown), the January 2020 $125 puts are paying out $440 per contract and the January 2020 $150 puts are paying out a cool $1,040 per contract.
Good money!
I've written about selling put options many times in The Rich Investor. Could this be a new strategy for you?
The more you know…