Welcome to the third installment of the best option-trading strategies for 2019.
So far, we've discussed two option-selling strategies: selling covered call options and selling option credit spreads.
Both have the advantage of churning out high probability wins because you're thinking about stock movement in terms of where it won't go versus where it will go.
Once you incorporate that mindset, it can open a whole new way of profiting on your options trades.
Today we'll discuss my one-and-only options-buying strategy that I urge every stock trader to take a deep look at.
Not only can it save thousands on each stock trade, but it can double the returns and allow for much less downside risk.
It's the trifecta of options trading.
Going Deep-In-The-Money
Deep-in-the-money (DITM) is language that describes an option contract which has a strike price set well below the stock price (in the case of a call option) or set well above the stock price (in the case of a put option).
Our discussion today will only focus on call options.
Let's move right into an example.
At time of writing, Apple Corporation (Nasdaq: AAPL) was trading at $150.73 per share.
Here is its weekly chart: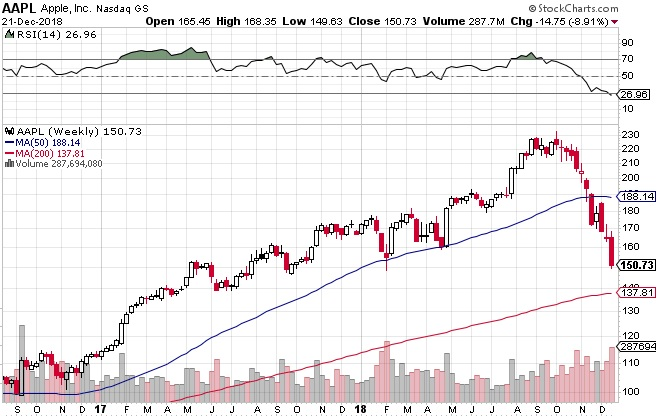 [Click to Enlarge]
It's undergone an incredible pullback as of late. Considering it was trading at $230 per share (all-time highs) back in October, it has given up almost 35%.
You're thinking that this might be a good time to buy some shares of this incredible company because it looks like it's getting close to support, and the RSI indicator (top panel) has fallen into oversold territory (below 30).
Sure, you could buy 100 shares at $150.73 each for an investment of $15,073. But I'm going to show you a much better way to put your money to use.
90% Is the Magic Number
Buying call options is a very bullish strategy. But buying deep-in-the-money (DITM) call options makes it that much better.
[Click to Enlarge]
Above is a sampling of Apple call options that expire in January 2020, with the $85 strike circled.
Splitting the bid/ask yields a fair value of $68.10 per contract. Since each option contract contains 100 shares of stock, we multiply $68.10 by 100 to get the full dollar cost of $6,810.
Buy why choose the $85 strike?
Delta Is the Key!
Looking down the Delta column you'll notice different amounts, with Deltas ranging from 0% to 100%.
The higher the Delta, the more the option price will move in lock step with the stock price. That's a good thing. It means you'll get more bang (option movement) for your buck.
My rule is to always stick with buying options that have a 90% or greater Delta.
Here's how it works…
Let's say the stock moves up by $1 per share. A call option with a 90% Delta will move up by roughly $0.90 per contract. A call option with a 50% Delta will move up by roughly $0.50 per contract.
Even though the 90% Delta option will cost more than others, you still want to stick with it.
That's because…
Less Cost, Less Risk, Double Returns
By investing $6,810 in the $85 call options, you're already saving $8,263 versus buying 100 shares outright for $15,073.
If Apple were to go bankrupt, you'd lose 54.8% less dollars than all the shareholders. That's a sizeable difference.
But probably the best feature of buying the DITM call options are the returns you can achieve.
Check out the profit/loss matrix below:
[Click to Enlarge]
See how, at every stock price, the call option moves in lockstep with the stock's dollar gains, but the losses get increasing less for the call option on the downside.
This helps give you peace of mind during major sell-offs.
On the upside, the call option outperforms the stock by a 2-to-1 margin in every case as far as returns go.
Sure, there are many other strike prices you can choose with varying degrees of price and Delta.
But the name of the game in options trading is movement.
If you're going to invest your hard-earned money, you want the investment to move.
Picking an option with a 25% or 50% Delta will only get you 25% or 50% of the movement, respectively. That's not what we're here for. We're here for high correlation with the stock price movement.
Some Final Tips
1. Always choose options with 90% or higher Deltas.
2. Stick to long-term expiration dates, preferably six months or more.
3. At expiration – depending on where the stock is at that time – you can either cash the option out, exercise it, or roll it forward to another long-term option trade.
In the worst-case scenario, if the stock drops below the strike price, the option will expire worthless and disappear from your account. This will lead to a 100% loss (as shown in the matrix above).
4. You must be bullish on the stock to use the strategy.
In conclusion, deep in the money (DITM) call options are available for many stocks. It offers less risk, less cost, and better returns.
I've devoted a whole chapter to this very subject in my book, and you can click here and here for previous discussions of the DITM strategy.
Give it a try!
I'll see you next time where I'll wrap up the series with option trading strategy #4 – my favorite one!