Welcome to 2019!
Let's make it a great year, especially for investing with options contracts.
We've come to our final installment and analysis of the four best option trading strategies. I've saved the best for last.
This is a tried-and-true method, and one I've discussed many times before here at The Rich Investor.
Of course, I'm talking about put-option selling!
Name Your Price In 2019
Seriously, with the sell-off in the market at the end of 2018, there are so many stocks that are much, much cheaper now than they were just a few weeks ago.
If you've been itching to take the leap and buy, now could be just as good a time as any.
But if you're concerned that more downside might be in store, then put-selling has you covered.
Not only could you gain as much as 30% more downside cushion, but it could also allow you to finally name that ultra-low price you've been seeking.
Yes, you can actually pick your buy-in price and earn some money to boot.
Here's Your Step-by-Step Process
1. Pick a stock you'd like to buy and the price you'd like to pay for it.
2. Choose a corresponding put option at a strike price that matches your desired buy-in level.
3. Choose a time frame (expiration date).
4. Sell that put option and collect the cash.
5. Wait until expiration day.
Yes. It's really that easy!
But, let's go over the steps in a bit more detail to put your mind at ease…
Let's say you're interested in possibly buying shares of pharmaceutical giant Johnson & Johnson (NYSE: JNJ).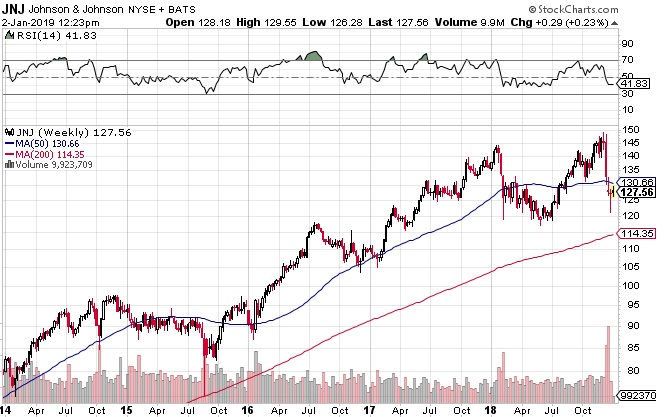 Looking at the weekly chart of JNJ above, which spans back to 2014, you can see it had fallen quickly from an all-time high near $149 down to $121, with a large part of it due to a disputed claim of potential asbestos being found in its flagship talcum baby powder products.
You're convinced that the current 20% drop is overdone and would like to possibly buy some shares.
But the current market environment still has you worried, and you'd like even more protection against near-term volatility. You don't want to buy JNJ at its current price near $128, but something even lower.
What can you do?
Sell put options!
Selling put options is a neutral-to-bullish strategy, and one in which you collect an upfront fee (the premium) for your promise to buy shares of a stock (JNJ in our example) at a particular price (strike price) during a specified period of time (expiration day).
You've concluded that $80 per share is your ideal buy-in level. That's a huge $48 below its current price, and a support area going back to 2014. That would represent another 37.5% of downside cushion.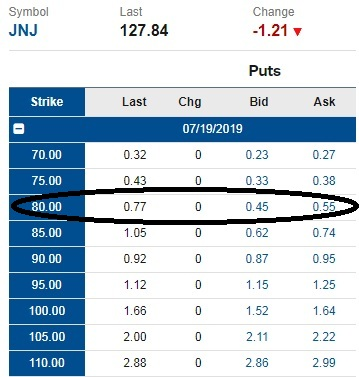 Looking at the option chain above, which shows a sampling of JNJ put options that expire in July 2019, I've circled the $80 strike row.
By selling one $80 put option contract for $0.50 per contract (splitting the bid/ask), you would receive $50 upfront in exchange for your obligation to buy 100 shares of JNJ at $80 per by July 2019.
Since each option contract contains 100 shares of stock, you would multiply the $0.50 per contract premium by 100 to reveal your full payment of $50.
One hundred shares (one option contract) is the minimum size to play with.
If the trade comes to fruition in July, you would need to have $8,000 ready to pay for them.
If 500 shares is your goal, then you could sell five put option contracts and receive $250. This of course could require an outlay of $40,000 in July, if warranted.
Make sure to stay within your comfort zone and financial parameters.
Buying JNJ at $80 per share isn't a guarantee though. With it currently trading near $128, you would obviously need it to fall all the way down to $80 by July to buy the shares at that low price.
In the meantime, you bide your time and wait.
What Happens at July 2019 Expiration?
Only two scenarios can occur in July:
1. JNJ is trading above $80. If this happens, the put option will expire worthless and disappear from your account. You keep the $50 upfront premium.
You are now free to repeat the process (and collect more cash!)
2. JNJ is trading below $80. If this happens, you will be required to follow through on your promise and pay for the shares in full. You're now the proud owner of 100 shares of a stock you wanted to buy at a deep discount. And, you still get to keep the $50 upfront premium.
But what are the chances of JNJ falling to $80 by July?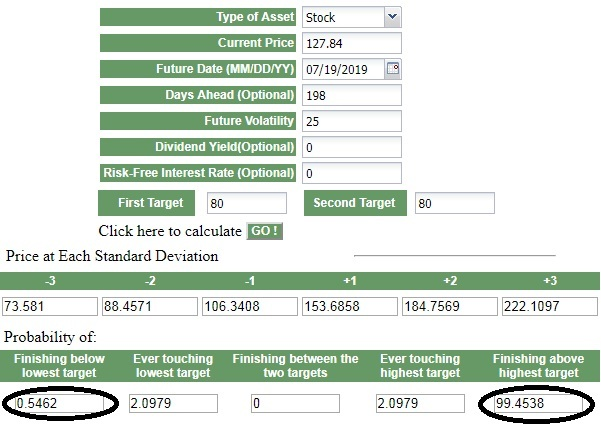 As shown in the graphic above, JNJ has only half of one percent chance of falling to $80 by July. Said another way, there's a 99.5% probability that it will remain above $80 by July.
This means the chances are extremely slim that you'll be able to buy the shares at your desired price. But you still get to keep the upfront cash.
Do this often enough over the course of a year on multiple stocks using multiple contracts, and before you know it, you've grown your account by a good amount.
A few Caveats
It's a straightforward strategy, and after doing it just a few times, you will be a pro. In the end, all you're doing is making a promise today to buy a stock you want for a price you want in the future.
But…
1. You'll need an approved margin trading account at your broker to execute these trades.
2. The stock could continue to move lower, even after you've bought it.
3. If you ever feel uncomfortable while in the trade, you can always close it out by buying back the put option. This may incur a profit or loss at the time.
4. As far as the expiration date, we're at the mercy of the put-option buyers. They get to decide when we might have to buy the stock. It's only in their best interests though to make us buy the stock if, and only if, JNJ falls below $80. JNJ could fall below $80 next week, next month, or in July. Or it may never happen. We don't know. So, the "potential" to buy the shares is in play from now until July.
Also, the longer the expiration date, the higher the upfront premium you'll receive. At the same time, more time allows the stock to possibly move adversely. It's your call to choose the timeframe.
That's it!
I hoped you've enjoyed these strategy sessions, and that maybe you'll put them to use in 2019.
Have a great year!
In his brand new book, Adam O'Dell shares the simple investing secrets he used to get him out of his 80-hour a week job and into a life of financial freedom. Learn…
Read More>>